Green Hair Elf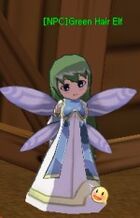 Location(s):
Clements Mine
Green Hair Elf is an NPC.
Description
She is the granddaughter of Sistine and resident of Sevis. She is one of the Four Heroes that defeated Galadriel 5 years ago prior to this story. Only Sabin knows about her as she is also the resident of Sevis and who is Baldea's mother and father.
Community content is available under
CC-BY-SA
unless otherwise noted.