No Man's Sky Update - The Loop
Play Sound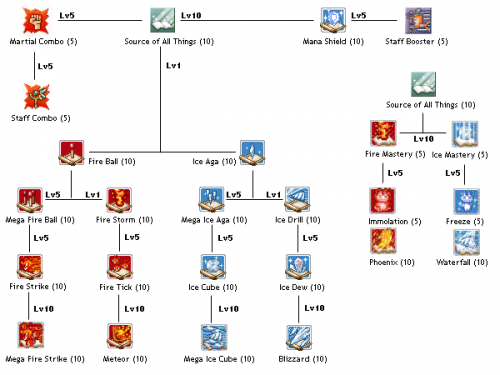 Mages use the black magic as their main attack occupation. Mages have various types of magnificent magic arts attack. Mages have low defense and vitality (HP) is small, but this is compensated by their formidable black magic attacks. Mages are good at long-distance ranged attack and kiting. Mages should primarily increase the intelligence (INT) stat.
Base Movement Speed: -15

① Go find "Mage's Association-NPC Manuel" at Town Elim.
② Ask Manuel how you can become a Mage.
③ If you successfully convince Manuel with
your plead to become a Mage, your job change will be complete!!

---
*Useful Links:
Fire and Ice
Two NPCs standing next to each other at the Mage area in Elim teach Mage skills, the left teaches fire and the right teaches ice. Initially you will not have enough AP to raise both, nor should you need to at lower levels. You should specialize in one element until you have your level 41 skill mastered (lv 10. Fire Strike or Ice Cube). Below is the table of the pros and cons of both fire and ice.
| Fire | Ice |
| --- | --- |
| Costs more AP to cast | Costs less AP to cast |
| Weakens most enemies | Slows most enemies down |
| Shorter cast range | Longer cast range |
| Higher level skills do more damage | Higher level skills do less damage |
| Good against steel enemies | Good against fire enemies |
| Slower cooldown | Faster cooldown |
| Mastery increases damage | Mastery increases cast rate |
Kiting is the ability to cast a spell and run away from the mob while you prepare your next cast. Kiting is difficult due to Mage's base speed of -15. Kiting successfully means not getting hit and is better suited to ice mages since they can slow most enemies down. Fire mages usually take a Stand and Deliver approach but can kite some slower enemies.
It should be noted that you may only get one of either Fire Mastery or Ice Mastery and as they are pre-requisites for every level 80+ skill you will be restricted to only one side of the skill tree for your highest level skills.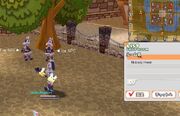 Mage Skills
There are two styles of attack for both fire and ice, Crush (aka Single Target) or Area of Effect (AoE) spells. Crush spells have better cooldown, do more damage, have a longer range and cost less AP per cast. AoE is difficult for a Mage due to their low DEF and average HP. The lower level AoE attacks do not have a big enough radius to make them useful.

Non Elemental Skills
Staff Combo
Skill
Skill Limits
Skill Rank
SP/EP Required
Level Required
Combo Step

Staff Combo (Passive)
Level Req.
10
1
0
10
4
Req. Skill
Martial Combo Lv5
2
3
10
6
Max Level
5
3
3
10
8
Description
4
3
10
10
Skill that allows the use of combos with staves.
5
3
10
12
Source of Universe
Skill
Skill Limits
Skill Rank
SP Required
Level Required
{{{effect}}}

Source of Universe (Passive)
Level Req.
10
1
0
10
{{{lv1eft}}}
Req. Skill
Martial Combo Lv5
2
1
10
{{{lv2eft}}}
Max Level
10
3
1
10
{{{lv3eft}}}
Description
4
1
10
{{{lv4eft}}}
Passive skill that increases AP recovery rate when sleeping.
5
1
10
{{{lv5eft}}}
6
1
10
{{{lv6eft}}}
7
1
10
{{{lv7eft}}}
8
1
10
{{{lv8eft}}}
9
1
10
{{{lv9eft}}}
10
1
10
{{{lv10eft}}}
Mana Shield
Skill
Skill Limits
Skill Rank
SP/EP Required
Level Required
AP Cost
Damage Reduced

Mana Shield
Level Req.
53
1
3
53
100
15%
{{{lv1dur}}}
Req. Skill
Source of Universe Lv10
2
4
56
110
17%
{{{lv2dur}}}
Max Level
10
3
5
59
120
20%
{{{lv3dur}}}
Description
4
6
62
130
24%
{{{lv4dur}}}
Creates a barrier of magic around its user. A percentage of damage received is taken from AP instead of HP.
5
7
65
140
29%
{{{lv5dur}}}
6
8
68
150
35%
{{{lv6dur}}}
7
9
71
160
42%
{{{lv7dur}}}
8
10
74
170
50%
{{{lv8dur}}}
9
11
77
180
59%
{{{lv9dur}}}
10
12
77
190
70%
{{{lv10dur}}}
Staff Booster
Skill
Skill Limits
Skill Rank
SP Required
Level Required
AP Cost

Staff Booster
Level Req.
72
1
4
72
60
Req. Skill
Mana Shield Lv5
2
4
84
70
Max Level
5
3
4
96
80
Description
4
4
108
90
Teleports the user to a selected spot a certain distance away. Requires Book of Elim learn.
5
4
120
100
Fire Skills
Fireball
Skill
Skill Limits
Skill Rank
SP/EP Required
Level Required
AP Cost
Damage

Fireball
Level Req.
10
1
3
10
15
75%
Req. Skill
Source of Universe Lv1
2
2
10
16
85%
Max Level
10
3
2
10
17
95%
Description
4
2
10
18
115%
Fire-element attack spell. Strikes large match sticks on fire and throws them at one enemy. The skill has almost no cast time and no recovery after use.
5
2
10
19
135%
6
2
10
20
150%
7
2
10
21
175%
8
2
10
22
190%
9
2
10
23
215%
10
2
10
24
240%
Mega Fireball
Skill
Skill Limits
Skill Rank
SP/EP Required
Level Required
AP Cost
Damage

Mega Fireball
Level Req.
18
1
4
18
36
100%
Req. Skill
Fireball Lv5
2
3
18
38
130%
Max Level
10
3
3
18
40
165%
Description
4
3
18
42
200%
Fire-element attack spell. Simultaneously throws multiple fireballs at a single enemy.
5
3
18
44
255%
6
3
18
46
305%
7
3
18
48
360%
8
3
18
50
420%
9
3
18
52
480%
10
3
18
54
550%
Fire Strike
Skill
Skill Limits
Skill Rank
SP/EP Required
Level Required
AP Cost
Damage

Fire Strike
Level Req.
41
1
6
41
75
375%
Req. Skill
Mega Fireball Lv5
2
4
41
80
420%
Max Level
10
3
4
41
85
470%
Description
4
4
41
90
526%
Fire-element attack spell. Launches a large, destructive fireball that explodes on contact with a single enemy.
5
4
41
95
590%
6
4
41
100
660%
7
4
41
105
740%
8
4
41
110
829%
9
4
41
115
928%
10
4
41
120
1039%
Mega Fire Strike
Skill
Skill Limits
Skill Rank
SP/EP Required
Level Required
AP Cost
Damage

Mega Fire Strike
Level Req.
65
1
5
65
85
570%
Req. Skill
Fire Strike Lv10
2
5
70
90
638%
Max Level
10
3
5
75
95
715%
Description
4
5
80
100
800%
Fire-element attack spell. Throws an even more destructive fireball that explodes into a brilliant spiral of flames upon contact with a single enemy.
5
5
85
105
896%
6
5
90
110
1004%
7
5
95
115
1125%
8
5
100
120
1260%
9
5
105
125
1411%
10
5
110
130
1580%
Fire Storm
Skill
Skill Limits
Skill Rank
SP/EP Required
Level Required
AP Cost
Damage

Fire Storm
Level Req.
16
1
4
16
35
35%
Req. Skill
Fireball Lv1
2
3
16
38
50%
Max Level
10
3
3
16
41
60%
Description
4
3
16
44
80%
Fire-element attack spell. Creates a fire storm around an enemy and those surrounding it.
5
3
16
47
95%
6
3
16
50
120%
7
3
16
53
135%
8
3
16
56
160%
9
3
16
59
180%
10
3
16
62
205%
Hell Burn
Skill
Skill Limits
Skill Rank
SP/EP Required
Level Required
AP Cost
Damage

Fire Trick
Level Req.
28
1
5
28
65
100%
Req. Skill
Fire Storm Lv5
2
4
28
70
130%
Max Level
10
3
4
28
75
170%
Description
4
4
28
80
210%
Fire-element attack spell. Summons sprites of fire that hover around the enemy, burning it and those surrounding it.
5
4
28
85
260%
6
4
28
90
310%
7
4
28
95
370%
8
4
28
100
435%
9
4
28
105
490%
10
4
28
110
560%

Meteor
Skill
Skill Limits
Skill Rank
SP/EP Required
Level Required
AP Cost
Damage

Meteor
Level Req.
80
1
10
80
115
135%
Req. Skill
Fire Trick Lv10
2
8
130
185%
Max Level
10
3
8
145
255%
Description
4
8
160
330%
One of the most devastating fire-element attack spells. When used, a large meteor from outer space crashes into an enemy, setting ablaze it and any enemies surrounding it. Because of its excessive mana usage, this spell requires a scroll, which can be purchased from street merchants.
5
8
175
420%
6
8
190
520%
7
8
205
620%
8
8
220
740%
9
8
235
865%
10
8
250
1000%
Fire Mastery
Skill
Skill Limits
Skill Rank
SP/EP Required
Level Required
Damage Increase

Fire Mastery (Passive)
Level Req.
80
1
3
80
+2%
Req. Skill
Source of Univers Lv10
2
3
85
+4%
Max Level
5
3
3
90
+9%
Description
4
3
95
+11%
A skill that sets one on the path to becoming a true master of fire, enhancing the damage done by fire spells and allowing for further growth. Cannot be learned if Ice Mastery has already been obtained. Additionally, one cannot learn Ice Mastery after gaining access to this skill.
5
3
100
+15%
Immolation
Skill
Skill Limits
Skill Rank
SP/EP Required
Level Required

Immolation (Passive)
Level Req.
100
1
4
100
Req. Skill
Fire Mastery Lv5
2
4
110
Max Level
5
3
4
120
Description
4
4
130
At a certain success rate, enemies may be set on fire and receive periodic HP loss upon being hit by a fire spell. Damage increases as the skill level does.
5
4
140
Phoenix
Skill
Skill Limits
Skill Rank
SP Required
Level Required
AP Cost
Damage

Phoenix
Level Req.
105
1
6
105
90
850%
Req. Skill
Fire Mastery Lv1
2
6
110
100
943%
Max Level
10
3
6
115
110
1047%
Description
4
6
120
120
1162%
This is ultimate skill for job one fire mage, u can aquire this skill by talking to fire mage in elim, (choose any different skills), then she asked u to go to Epreath in Clements mine 3rd floor(talk to fire pillar) then she give u a stone, u need 30 hot sun to hatch it( in the pet merchant on item store) then go back to espreath and do the rest
5
6
125
130
1290%
6
6
130
140
1432%
7
6
135
150
1589%
8
6
140
160
1764%
9
6
145
170
1958%
10
6
150
180
2174%
Ice Skills
Frostbolt
Skill
Skill Limits
Skill Rank
SP/EP Required
Level Required
AP Cost
Damage

Frostbolt
Level Req.
10
1
3
10
13
60%
Req. Skill
Source of Universe Lv1
2
2
10
14
70%
Max Level
10
3
2
10
15
85%
Description
4
2
10
16
100%
Water-element attack spell. Draws moisture out of the air at freezing temperatures to create a sharp fragment of ice, which is thrown at a single enemy. Has practically no cast time and extremely quick cooldown.
5
2
10
17
115%
6
2
10
18
130%
7
2
10
19
145%
8
2
10
20
165%
9
2
10
21
185%
10
2
10
22
210%
Mega Frostbolt
Skill
Skill Limits
Skill Rank
SP/EP Required
Level Required
AP Cost
Damage

Mega Frostbolt
Level Req.
18
1
4
18
30
85%
Req. Skill
Frostbolt Lv5
2
3
18
32
115%
Max Level
10
3
3
18
34
150%
Description
4
3
18
36
185%
Water-element attack spell. Creates and throws multiple icicles at a single enemy.
5
3
18
38
230%
6
3
18
40
280%
7
3
18
42
335%
8
3
18
44
390%
9
3
18
46
450%
10
3
18
48
520%
Ice Cube
Skill
Skill Limits
Skill Rank
SP/EP Required
Level Required
AP Cost
Damage

Ice Cube
Level Req.
41
1
6
41
71
130%
Req. Skill
Mega Icebolt Lv5
2
4
41
76
185%
Max Level
10
3
4
41
81
250%
Description
4
4
41
86
335%
Water-element attack spell. Launches a giant sphere of ice that explodes upon contact with a single enemy.
5
4
41
91
420%
6
4
41
96
520%
7
4
41
101
620%
8
4
41
106
740%
9
4
41
111
870%
10
4
41
116
1010%
Mega Ice Cube
Skill
Skill Limits
Skill Rank
SP/EP Required
Level Required
AP Cost
Damage

Mega Ice Cube
Level Req.
65
1
5
65
75
210%
Req. Skill
Ice Cube Lv 10
2
5
70
80
290%
Max Level
10
3
5
75
85
395%
Description
4
5
80
90
500%
Water-element attack spell. Throws an even more destructive block of ice that violently bursts into cold air upon contact with a single enemy.
5
5
85
95
625%
6
5
90
100
770%
7
5
95
105
920%
8
5
100
110
1090%
9
5
105
115
1275%
10
5
110
120
1480%
Ice Drill
Skill
Skill Limits
Skill Rank
SP/EP Required
Level Required
AP Cost
Damage

Ice Drill
Level Req.
16
1
4
16
35
30%
Req. Skill
Frost Bolt Lv1
2
3
16
38
40%
Max Level
10
3
3
16
41
55%
Description
4
3
16
44
65%
Water-element attack spell. Strikes multiple enemies with fragments of a giant icicle.
5
3
16
47
80%
6
3
16
50
100%
7
3
16
53
115%
8
3
16
56
140%
9
3
16
59
160%
10
3
16
62
180%
Ice Dew
Skill
Skill Limits
Skill Rank
SP/EP Required
Level Required
AP Cost
Damage

Ice Dew
Level Req.
28
1
5
28
62
85%
Req. Skill
Ice Drill Lv5
2
4
28
67
115%
Max Level
10
3
4
28
72
145%
Description
4
4
28
77
185%
Water-element attack spell. Creates a crystal of ice to damage, as well as trap, multiple enemies.
5
4
28
82
235%
6
4
28
87
280%
7
4
28
92
335%
8
4
28
97
385%
9
4
28
102
490%
10
4
28
107
520%
Blizzard
Skill
Skill Limits
Skill Rank
SP/EP Required
Level Required
AP Cost
Damage

Blizzard
Level Req.
80
1
10
80
110
100%
Req. Skill
Ice Dew Lv10
2
8
125
145%
Max Level
10
3
8
140
210%
Description
4
8
155
280%
One of the most devastating water-element attack spells. When used, a freezing comet from outer space strikes the ground, creating a blizzard that damages enemies surrounding the site of impact. Because of its excessive mana usage, this spell requires a scroll, which can be purchased from street merchants.
5
8
170
360%
6
8
185
450%
7
8
200
550%
8
8
215
660%
9
8
230
785%
10
8
245
915%
Ice Mastery
Skill
Skill Limits
Skill Rank
SP/EP Required
Level Required
Cast Speed

Ice Mastery (Passive)
Level Req.
80
1
3
80
+2%
Req. Skill
Source of Universe Lv10
2
3
85
+4%
Max Level
5
3
3
90
+6%
Description
4
3
95
+8%
A skill that sets one on the path to becoming a true master of ice, improving the rate at which ice spells are used and allowing for further growth. Cannot be learned if Fire Mastery has already been obtained. Additionally, one cannot learn Fire Mastery after gaining access to this skill.
5
3
100
+10%
Freeze
Skill
Skill Limits
Skill Rank
SP/EP Required
Level Required

Freeze (Passive)
Level Req.
100
1
4
100
Req. Skill
Ice Mastery Lv5
2
4
110
Max Level
5
3
4
120
Description
4
4
130
At a certain success rate, enemies may be cast in ice upon being hit by an ice spell, slowing their movement and attack speed. The slowing effect improves as the skill level increases.
5
4
140
Waterfall
Skill
Skill Limits
Skill Rank
SP/EP Required
Level Required
AP Cost
Damage

Waterfall
Level Req.
105
1
6
105
80
295%
Req. Skill
Ice Mastery Lv5
2
6
110
90
405%
Max Level
10
3
6
115
100
535%
Description
4
6
120
110
685%
The ultimate water-elemental skill. Forcefully washes away an enemy with the strength of a waterfall.
5
6
125
120
855%
6
6
130
130
1050%
7
6
135
140
1255%
8
6
140
150
1480%
9
6
145
160
1725%
10
6
150
170
2000%