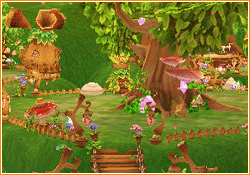 Sevis is a mystical town of faeries and nature. Most beautiful and high-level city in the game. Come here for the highest level quest center, and endgame grinding.
Terrain
Grassy, Bridge Network
Description
Highest level city. Warp using /sevis
Classes
None
Recommended Lv.
120+
Warp Areas
East:Southern Red Soil
South:Northern Poibus
Buildings
Quest Center, Ranch, Tower of Training, Pet Shop, Bank, Item Shop, Tavern, Red Cross HQ, Sevis Elder's House, Sevis Tower
Main Buildings
● Quest Center
Speak to the Highest Level Quest Manager to receive quests.
● Ranch
Come see Dean's Ranch. Also you can meet Jimmy, Sistine and Gunrett here.
● Tower of TrainingThere's only a Beggar and Street Merchant here.
● Pet Shop
You can find the Pet Trainer and some of her marvelous pets on display. Also meet Novice Item Manager to buy any advanced item.
● Bank

May learn the bank skill as well as deposit items and money. You must not forget this pin code or else it will be extremely difficult to get it back.

● Street Merchant

Low level items can be bought here.

● Tavern

Speak to Wid to buy any low level food and water for HP and MP recovery. Also you can meet Sabin and Arquette not far from Tavern.

● Red Cross HQ
At this time the road is blocked off to this building. Maybe it's under construction?
● Sevis Elder's House
Home of the Elder in Sevis.
● Sevis Tower
At this time nothing is known about this mysterious building.